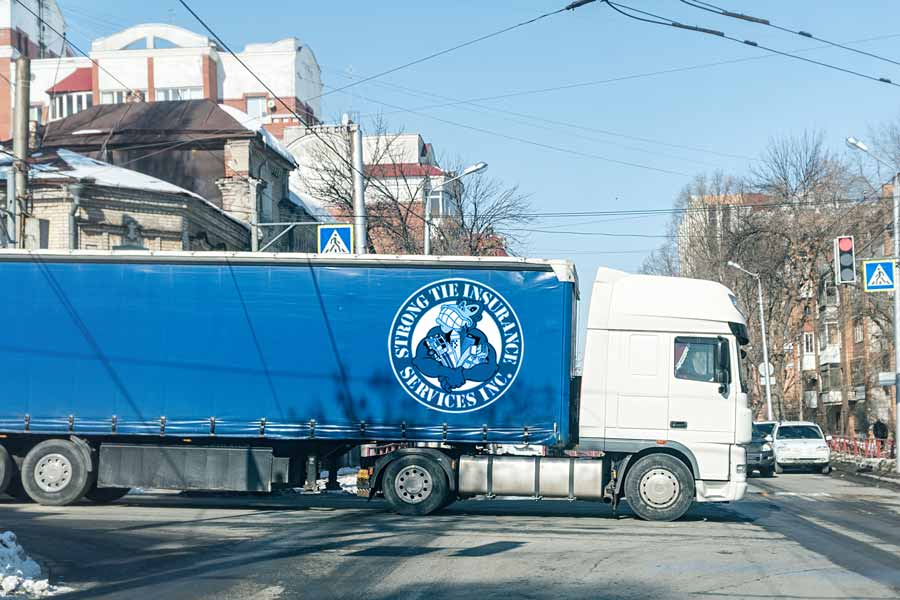 Semi truck insurance, also known as owner-operator insurance is a liability cover for injuries or damages caused to other parties when the driver is at fault. Different types of protection may be added depending on several factors that are special to the driver. On average, semi truck insurance costs for leased owner-operators can range from $1,500-$2,000 per year. If you are an owner-operator with your own authority, the prices range from $9,000-$12,000 for each truck you own. For new authorities, the new pricing is a bit higher in recent years and ranges from $12,000-$16,000.
Why You Need a Semi-Truck Insurance
To use the public roads in California, the state requires that you should adequately insure your vehicle. The main reason is to have an orderly system of compensation should an accident occur.
Additionally, as a business owner, you need to keep the trucks on the road and avoid any downtime that may be caused by accidents. Any slight delay in your business activities can cause losses that should be avoided at all costs. The best way of doing that is by having a reasonable truck insurance quote. Otherwise, you'll be open to a series of lawsuits as a result of accidents caused by an uninsured vehicle.
Besides, there are so many business advantages that come with semi truck insurance. You can get compensated should one of your trucks get involved in an accident. The compensation may include covering the medical costs of the driver and any damage to the third-party. It saves you the stress of having to handle unexpected financial surges. 
Comprehensive Commercial Trucking Insurance
Get the appropriate coverage you need from a trusted insurance provider.
Factors that Determine the Truck Insurance Cost
Several factors come into play when deciding how much you are going to pay each year. Plus, different insurance companies will have put more weight on some factors than others, which will skew the rate either higher or lower. These include:
The type of cargo that you haul – hauling hazardous material such as fuel will cost higher premiums than, let's say, hay.
The weight of the load – heavier freight will translate to higher rates.
The distance you travel – if you travel for a longer distance, the premium rate will be higher because you are exposed to a greater risk of an accident.
The value of the truck – in determining the physical damage premium, a percentage of your truck value is used to come up with the figure. If your vehicle has a higher value, then the more premium you will pay.
Your credit history – credit scores and history are having a significant influence in helping insurance companies decide how much premium you will pay. A favorable credit history assures the insurer that you can pay premiums and hence lower premiums. Poor credit history will warrant higher premiums.
CDL experience and driver's age – a longer commercial driver's experience means you have a lower risk, and hence, you will pay lower premiums.
Coverage limit– a higher coverage limit means a higher premium rate and vice versa.
Deductible amounts – higher deductibles translate to lower premiums.
Claims history – if you have a zero loss history, then your premiums will be reduced.
Payment plan
How Much is the Average Cost of Semi Truck Insurance
Generally, the type of policy that you need and the type of truck that you drive will determine the cost you will pay. Motor carriers bear the responsibility of providing for primary liability. If you are a trucker with your own authority, then you will cater for primary liability plus, bobtail, NTL plus any extra costs that may arise.
Primary liability ($5,000-$7,000)
This covers the damage that happens to others as a result of your driving. It does not necessarily cover your own semi truck.
Physical damage ($1,000-$3,000)
It offers coverage for damages caused by a natural disaster, collision, vandalism, and theft that results in actual physical damage to the truck.
General liability ($500-$600)
General liability insurance has a much broader application and covers a majority of what is not covered by primary liability. It applies to the business itself and not the trucks.
Bobtail insurance ($350-$400)
Bobtail insurance covers the driver and the truck when they are not hauling any load, especially when traveling between jobs. It applies to a semi-truck with no trailer attached.
Umbrella policy ($500-$700)
This provides protection above and beyond general liability, auto liability, and worker compensation.
Occupational accident ($1,600-$2,200)
Compensates for work-related injuries as well as provide income benefits and medical payment.
Cargo coverage
Cargo coverage varies according to the cargo limits required for each type of cargo.
Non-trucking
Non-trucking liability covers damages and injuries to third parties that are caused by a lease driver while for non-business purposes.
When shopping for the best semi truck insurance quote, it is best to compare offers from several companies in the market. It is always a bit hard to find a one-size-fits-all coverage for your semi truck since most insurance companies do not explicitly write all the trucking risks. However, if you dig a little deeper, you might just find the right company to fulfill all your needs.
Extra knowledge will also help in reducing unnecessary costs that come along. For example, you might have to consider higher deductibles or lower coverage limits if you want to save the extra coin in premium rates.
What Are The Most Common Reasons for Road Accidents?
Statistics show that there are more than 10 motor vehicle-related deaths per day in California alone.
Guide to Choosing the Best Semi Truck Insurance for Your Business
When choosing one among many commercial truck insurance companies, you should first consider a few things to guide you in fulfilling what you need. It is absolutely important to understand the long-term implications of settling on a particular company that you want to do business with.
Does the company offer all kinds of cover you are looking for? Do they have professional representatives? What is their previous claims record?
These are some of the things to keep in mind when choosing for the best. A little research will ensure you get the best coverage and best deal overall. Here, we help you select not only the cheap commercial truck insurance but the best coverage for your business.​
Investigate What Type of Coverages are Offered
The trucking business has unique challenges that can only be solved by experts. Does the company you want to insure your business with specializing in commercial truck insurance, or is it a sideline venture?
You want to deal with a company that is fully dedicated to semi truck coverage and knows exactly what the business involves. Do they have all types of coverage that are considered additional by other companies? Some of these services include trailer interchange cover, hazmat truck insurance, uninsured/underinsured, worker compensation coverage, and trucking umbrella insurance.
Your ideal company should tick all the boxes of the most essential coverages and protection.
Claims Record and Expertise
Apart from excellent service, a 24/7 response and outstanding logistical experience, the company you choose should have the ability to process your claims in a fast and efficient manner. It's a great deal because you will need to get back on the road as soon as possible after an accident.
Considering the amount of money you will end up paying as premium and other expenses, it is always a wise move to look beyond the horizon. Shop around as many semi truck insurance companies as you can get while asking for quotations from each. Then make a comparison to see the best company. Make a shortlist of the most suitable companies which you would like to take cover with. An additional tip would be to ask the respective companies to better their quotation and to mention that you are looking to compare their pricing with other companies. You will be surprised at how much they will reduce the quotation for you.
Have All the Documentation Ready
The process of signing up for a new insurance involves a lot of paperwork and documentation. It can be frustrating when you don't have all the documentation ready when asked to present a specific vital document. To save yourself the trouble, make sure you have prepared all the details, records, and documentation with you. Apart from the necessary documents, you will need the drivers' details, truck details, and the type of cargo to be carried. 
If you are new to the business of semi-truck insurance, enlisting the services of a qualified agent will go a long way in ensuring you are on the right track. A professional agent should help you understand your needs and guide you in choosing the most suitable insurance company. After getting the confidence to make a purchase, you should go ahead and select the company of your choice.
Go for What You Need Not What You Want
It can be daunting to choose from a wide range of insurance covers. Some are certainly more essential than others and constitute legal requirements. For example, a public liability insurance is a mandatory requirement by FCMSA, motor carriers, and owner-operators with authority. Some types of contracts may also require you to have general liability insurance though not a mandatory requirement by law.
Choosing what you need is essential to the daily business operations. It all boils down to how applicable a particular coverage is to your business.
Most insurance companies will increase their rates by a certain percentage each year. It might not seem like a lot, but in the long run, the figures are quite significant. For this reason, you should evaluate the value that you are getting and weigh against your budget plan. It will give you a clear picture of what exactly you are getting.
What to Look For In a Semi Truck Insurance
Getting a semi-truck insurance is not easy. There's a lot of things that brokers, agents, and insurance companies expect you to already know about the world of trucking insurance. To avoid costly mistakes in the process of getting a semi-truck insurance quote, there are certain things you should look for before you sign up.
Does the company offer bare minimum coverage?
A bare minimum coverage provides you with adequate cover in the case of damage or accidents. It's always tempting to try and save on costs by foregoing some coverages that may not seem important at the moment. This tactic can prove catastrophic in the long run when you find yourself 100% responsible for replacing all damages and loss simply because of a minor coverage that you ignored. To always be on the safe side, every semi-truck policy that you sign up for should cover damage to your vehicle, damage caused by cargo and damage on other vehicles.
Does the company offer 24-hour claims service?
It can be disappointing to try and get help only to find that the insurance company operates on a schedule of 9-5 excluding the weekends. You want to work with a semi truck insurance company that is responsive all around the clock since most truckers rarely follow a structured schedule. See if the company you want offers a 24-hour claims service. Your representative can help you in knowing this.
What's the quality of service?
People always assume that a big name means quality service. It may not always be the case. There's more to look for other than what you previously heard. Most truckers will go for already established big companies expecting to get the best customer service ever. However, there are dozens of regional semi truck insurance companies that offer high-quality service and much better logistics options. Besides, some have very competitive pricing compared to the big guys.
Does the company offer OEM parts?
Most semi truck insurance companies will only cover part of the repairs in the event of an accident. In carrying out the repairs, third-party parts that are of lower quality and found at a cheaper price will be used. It is important to look for a company that is willing to pay for Original Equipment Manufacturer (OEM) parts when carrying out your repairs. OEM parts are parts that are identical to the original ones that came with your new vehicle. This ensures that your vehicle maintains its value and performance. Before you settle on a company, ask your representative what type of repairs are covered and if the company is willing to pay for OEM parts.
How do their quotes compare to others in the industry?
There are hundreds of insurance companies willing to sell you their service. Bound by too much choice, it is daunting to choose the best one for you. A careful comparison of the different quotes should show you the direction to follow when selecting the best semi truck insurance company. You don't want a policy that is overly priced nor do you want cheap insurance quotes that do not meet all your requirements. Fortunately, most companies are willing to send you a free quote once you fill out an online form, and you can easily compare with others. Typically, the best insurance policy should be moderate and offer you comprehensive coverage at a reasonable price.
Bundle Insurance Package discount
You want to save a few bucks in the process of acquiring a new semi truck insurance and this should come in many forms. Insurance companies will more often than not give you a discount if you buy multiple covers with them at once in the form of a bundled insurance package discount. This can save you a lot of money in the long run as opposed to buying a single policy with different companies.
How competitive is the insurance company?
When choosing the company that wants to offer protection for your semi truck, always go for the most competitive. Consider the financials of the company. Check their pricing. Find out how professional they are and how they respond to claims. Do not just choose a company unless you've conducted a thorough review.
Vehicle owners face multiple risks daily. At Strong Tie Insurance, we know the hustle that you have to go through to keep your vehicle running throughout the year. That is why flexible track insurance quote that fits the need of most vehicle operators.
Our track record speaks for itself, and we have clients all over the state of California who can attest to the exemplary services that we offer. We have the best truck insurance that you need. Our team of professionals will guide the best truck insurance quote to pick without cutting back coverage.
Semi-truck insurance is essential for the smooth running of any business. Luckily, our company offers a variety of insurance coverage that will fit your needs. 
We offer a wide range of insurance policies that cover trucks of all types and sizes. Over the years of our operation, we've been able to deal with different clients who have different trucks yet want the same goal; to be insured against any damages or injuries that may result from semi-truck accidents.
Our team will guide you on the quest of looking for the best semi-truck insurance cover. We'll walk with you through the journey of ensuring that your business is kept safe from any downtime inconveniences.
We cover even the smallest damages that are caused by a minor collision. This will ensure that your vehicle gets covered against physical damages that result from such accidents.
We also have general liability coverage that covers accidents that are experienced during the unloading of the trucks. Besides, we have excess liability scheme that covers serious accidents that are encountered when delivering items to your customers.
Get a Comprehensive Commercial Trucking Insurance Quote Today