What To Look For In a Commercial Truck Insurance Company
There are so many commercial insurance carriers out there that it can be overwhelming to determine who should be your provider. Whether you have been in business for a long time or are just starting out, your
trucking insurance
may be one of the most important decisions you make. 
As one of your most substantial fixed expenses, you want to make sure that you get the best insurance coverage for your needs. As you shop around for new plans, here are some things you should consider.
Do I Need Commercial Trucking Insurance?
The short answer is yes. Every U.S. state has some basic liability requirements for all drivers. The amount of coverage available will be the most significant difference between your personal and commercial policies. 
Since trucking businesses have higher risks than individual drivers, they require specialized insurance. Commercial vehicles are more expensive, carry valuable cargo, and can cause more damage in an accident. Your specific needs might require you to purchase insurance above your state's minimum, but you should also look for plans that are the best fit for your company.
Different Types of Insurance Plans 
The kind of coverage you need will depend mostly on your business: what do you haul, how far will you pull it, and who will do the hauling? It is vital to understand the different types available so that you can pick the right policies for your business. Here are the most common types of
commercial truck insurance
:
Truckers General Liability
covers your actions while you are operating somewhere else. For
example, if your driver is working on a loading dock. General liability also helps cover any mistakes made during the delivery of the cargo.
Primary Liability
covers damage you cause to others while operating your semi. This liability insurance does not pertain to damages made to your truck.
Physical Damage Coverage
helps to repair or replace equipment that has been damaged
during an accident or theft.
Non-Trucking Liability
covers damages made to others while the truck is not under
dispatch. For example, if you use your semi-truck to help a friend move and are
involved in an accident.
Motor Truck Cargo
covers your cargo. Insurance plans can restrict what and how the shipment is included, so make sure you find the appropriate policy. For a wide range of
cargo coverage, look for something that covers your cargo regardless of the risk involved.
Trailer Interchange/Non-Owned Trailer
is used when you are hauling a trailer that you don't own. Sometimes there are agreements created called "trailer interchanges."
Medical Payment Insurance
helps cover medical bills if you or a passenger is injured while on the job. This coverage can vary from state to state.
Uninsured/Under insured Motorist Insurance
protects you in case someone else causes an accident but doesn't have sufficient insurance to cover your losses.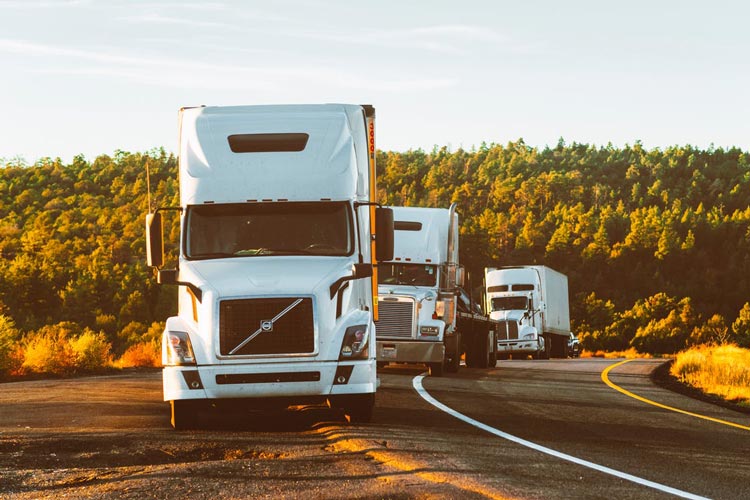 Commercial Truck Insurance Companies: What To Look For
With so many different insurance companies on the market, you may not know what works best for you. There are, however, certain qualities that you should seek out in insurance providers to ensure that you get the best bang for your buck. 
Relevant Experience
You need an insurance carrier who knows your industry. Insurance companies are in the business of determining risk and dealing with accidents. Not knowing what kinds of issues you'll run into or how to deal with disasters properly can cost you a great deal of time and money. 
It might be tempting to go with a carrier who offers a lower price, but if they take twice as long to understand and react to your situation, you'll have a net loss. Relying on local authorities to handle accidents will undoubtedly cost you more in the long run. 
Great Customer Service
Don't disregard the importance of customer service. Even small delays in dealing with your claim could be costly or disastrous. Lower prices are typically not worth the hassle of poor service. Moreover, if your company is too small or has limited hours, you could find your entire business on a halt while you wait for your carrier to do their part. 
Affordable Pricing
Even though the price shouldn't be the only element that you consider when shopping for cheap commercial truck insurance, it is an important one. Saving money in all areas is the key to a great business. 
Of course, several factors influence price, so you should understand what goes into your truck insurance quote. Getting the lowest price also doesn't mean you're getting the best value. Consider all aspects of your company and policy. 
When insurance companies are creating your quote, they are considering the following:
The driving records of your drivers

Your company's safety history

The number of vehicles in your fleet

The types of vehicles in your fleet

The kind of cargo you haul, how it is stored, and where it is delivered
Deductible
The deductible is the amount that you pay out of pocket before your insurance starts paying its share. Generally speaking, a higher deductible will result in lower monthly premium payments, while lower deductibles will have higher monthly premiums. 
You often have a choice on how high of a deductible you are willing to pay. You might consider a higher deductible if your vehicles aren't worth much; this can save you on monthly premium payments. Just make sure to budget accordingly, so you have the cash on hand in case there is an accident. 
What Information Do I Need to Get Insurance?
When the time comes to start getting commercial truck insurance quotes, there is some information that almost every provider will ask for. You should keep the following on hand:
Driver's license numbers of all drivers

Driving histories of all drivers 

Vehicle Identification Number (VIN) for all trucks 
Some companies may also want to see your current insurance declaration page. This page is also helpful for you to know what kind of insurance policy you currently have so you can make fair and accurate comparisons. Make sure to get quotes from multiple companies and not to go with a company based only on price. 
Feel safer and more secure behind the wheel.
Get the Insurance Coverage that suits your need.