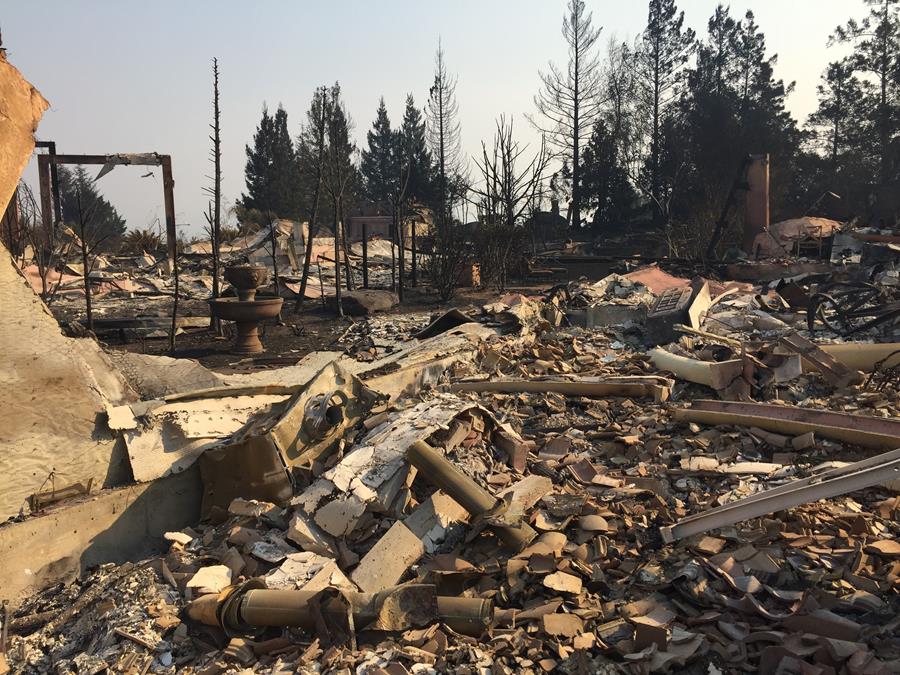 1. Not Enough Insurance. In a major disaster there is a huge load factor in the cost to repair or replace. The issue of inadequate limits to replace or rebuild seems to be a bigger issue than anyone anticipated. Whether it's a homeowner who can't afford to rebuild or a business-owner facing a major coinsurance penalty, a consumer who does not have enough insurance to pay for what is needed after a loss will not be happy with his/her agent. It's simply a huge bummer. Consumers want their agent to be their advocate, especially if they are underinsured. Forget about sending long explanatory emails, and pushing them off to their adjuster. We need to help them access possible solutions. If we don't engage at a human level, their next call will be to an attorney.
2. Misinformation
. One client called to say he heard that PG&E (the utility company) was under investigation as a possible cause of the fire and that if PG&E is found responsible he will have no coverage under his insurance. It's crazy talk like this that creates hysteria, drives up costs and delays claims. The antidote is positive education and 5-star client advocacy. Clients who are well connected with their agent/agency communicate proactively…they are very comfortable calling with questions. And commercial agents who can discuss
personal insurance
wow their commercial clients.
Strong Tie Insurance
Protecting people, their possessions and their businesses for 20 years
3. Extended Replacement Cost – This coverage—which will pay up to a specified percentage (125%, 150%, 200%, etc.) over an insured's policy limit to fully replace a damaged home—is gold after a catastrophic loss. Example, a 1,611 square foot house was insured for $489,500 ($304 psf). The estimate to replace now is $600,951 ($373 psf). That's a 23% increase. The good news is this policy has a 125% extended replacement cost endorsement increasing the available limit to $611,875. Whew!
4. Loss of Use (Additional Living Expense) – Some policies include coverage up to 12 months from date of loss. In a major disaster, carriers are quickly extending this to 24 months and perhaps beyond if needed. So claimants will want to confirm the extension. Loss of Use coverage is best written for actual loss sustained for at least 24 months.
5. Debris Removal – Environmental laws have changed the dynamics of disposal. Debris removal coverage provides reimbursement for clean-up costs associated with damage to insured property. The big consumer question here is whether to use public or private debris removal services. We'll need to know enough to help walk them through the options without actually recommending an approach…something better handled by their contractor.
6. Landscaping – The rumor mill is telling people that their landscaping is not covered by their home insurance. FACT: A typical homeowner's policy will cover damage to trees, shrubs and plants up to 5% of the policy's dwelling limit generally with a maximum amount available per tree, shrub or plant of $500. The faster we can shut down the rumor mill (client by client), the better.
7. Secondary Loans – It's tough enough having one lender to work with during reconstruction, having two requiring sign-offs can be problematic – it's helpful to advise clients to check in with their lender on how the claim process works (on the bank's side) before a loss occurs.
8. Civil Authority – Agents need to start paying attention to coverage they think will never be used …like Civil Authority which significantly impacted businesses and other organizations in this firestorm. To trigger a civil authority-related loss, the insured must be able to show (1) a loss of business income caused by an action of a civil authority; (2) that the action of the civil authority prohibited access to the insured's premises as described in the policy; (3) that the action of the civil authority prohibiting access to the insured's premises was caused by the direct physical loss of, or damage to, property other than the insured's premises; and (4) the loss of or damage to property other than the insured's premises was caused by or resulted from a peril that was covered under the insurance policy.
9. Off-premises Power Failure – In some cases there was no direct damage to covered commercial property, but there was damage to property of others resulting in a loss of power. Most commercial property insurance policies do not provide for this loss of income and the related extra costs unless coverage for off-premises power failure was added as an endorsement.
10. Business Income – this insurance covers the loss of income that a business suffers after a disaster. The income loss covered may be due to a disaster-related closing of the business facility and/or due to the rebuilding process after a disaster. Typical business owners policies provide for "actual loss sustained" for 12 months following the loss. We are seeing that 12 months may not be enough…in this disaster it may be 4-6 months before people are able to get the debris removed. A 24-month business income coverage term should be quoted and the client decision documented well before any loss.