When your job requires you to be on the road, you need to have the appropriate commercial trucking insurance. From bad weather to distracted drivers, you take a risk every time you get behind the wheel. While you already know the importance of having truck insurance, you might be tempted to go with any option you can find. Not all insurance companies and plans are equal. 
Factors to Consider When Shopping for Commercial Insurance?
Not only do you want the best choice for your specific needs, but you also want a policy that won't break the bank. Here are some key things to consider when shopping for the best and most affordable commercial truck insurance for your business.
1. Price
If you are looking for the most affordable truck insurance coverage, you are obviously going to look at the price tag. Not only do you want to avoid overpaying for your plan, but you also want to get the biggest bang for your buck. Of course, several factors impact price. When generating truck insurance quotes for your needs, companies often look at the following:
Types of coverage you want

The kind of cargo you haul and where you deliver it

Types and number of vehicles in your fleet

The driving records of the individuals who will be driving your trucks

Your company's safety and inspection history
Be aware that the lowest price doesn't necessarily mean the best value. There are more elements of your insurance policy to consider outside of the cost. When combined, you can have the exact coverage that you need at a price you can afford.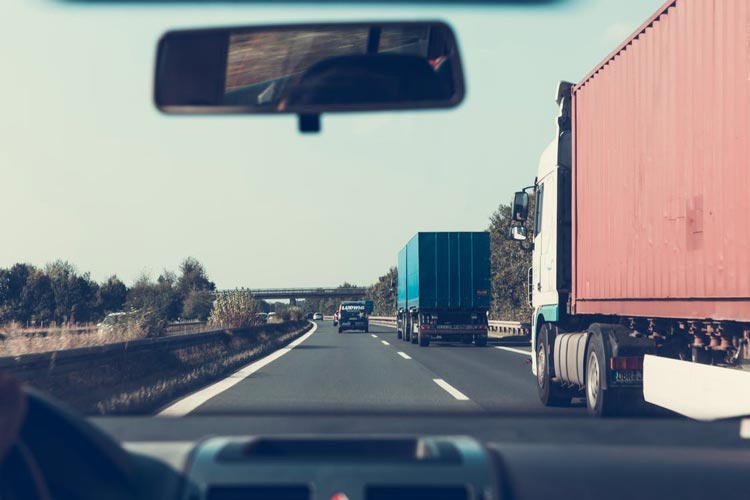 2. Types of Available Coverage
There are a variety of insurance options. Most owner-operators should shy away from a one-size-fits-all package; your business has unique needs. Knowing your individual needs is the first step to finding your best-fit package. Here are the most popular types of insurance options and what they cover:
General Liability Insurance: The action of a driver on someone else's property: loading docks, truck stops, and mistakes made in delivery.
Primary Liability: The damage your driver causes while operating your truck.
Physical Damage: Property damage to your equipment from an accident or theft.
Non-trucking Liability: Physical damages or injuries to others while your commercial vehicle is not under dispatch.
Motor Truck Cargo: Shipment in case of theft, wet/damaged, a breakdown in refrigeration, etc.
Trailer Interchange: Non-owned trailer being used under a trailer interchange agreement.
Medical Payments: Medical bills for your driver or passenger who is injured while traveling in your truck
Un/Underinsured Motorists: If someone else causes an accident to your vehicle and does not have sufficient insurance to cover damages.
3. Experience in Your Field
It's easy to take for granted that not everyone knows your business as you do. With that in mind, you want a commercial truck insurance company that has experience with your business. Since insurance companies deal with assessing risk and responding to accidents, you want a carrier that knows the kinds of dangers and accidents you might encounter on the job.
Going with a lower-priced company that doesn't have the proper experience can lead to higher overall costs in the long term. For example, if you are involved in an accident that results in dangerous materials being scattered around, you'll want an adjuster who understands the cleanup process. An adjuster who doesn't know the importance or process of cleaning up the mess might rely on local law enforcement to lead the process. Relying on local authorities will almost always cost you more time and money.
4. Customer Service
It's easy to overlook the importance of excellent customer service when evaluating a potential insurance company. You might find options that have great prices, loads of experience, and the perfect package, but lack availability and proper service. If your insurance company delays returning your calls, isn't open when you have trucks on the road or doesn't have a pleasant bed-side manner, it isn't worth the price. An accident that happens after hours can become extremely expensive while putting your company at a higher risk.
5. Additional Services
It's becoming more common for insurance companies to either offer other services or to partner with companies that can help you. For example, you might have an option to work with an expert on loss control or risk management. These kinds of services could help reduce potential risks and avoid accidents.
Your provider might also offer training, hotlines, manuals, or newsletters that promote safety, compliance, and good business. It never hurts to ask what other services might be available or if they're the company has other businesses in their network. You might find discounts for additional services you need, such as accounting or marketing.
6. Reputation
Don't overlook what other companies or people have to say about potential insurance providers. Take the time to look up reviews, talk to current or past clients, and research the company. While not every negative comment online means there is a fatal flaw with a particular company, specific trends might become apparent.
If you see a consistent theme of complaints about a specific area, pay attention. A company may advertise certain qualities, like 24-hour availability, but be difficult to contact after hours. While you're looking at negative reviews, also pay attention to the positive things people say. You might see the qualities most important to you.
Getting Cheap Commercial Trucking Insurance
Regardless of whether you've been in the trucking business your entire life or you're just getting started, you need to remain diligent regarding your commercial insurance. It's tempting to keep the same company year after year, but you must take the time to shop around each year.
You might find insurance options better suited to your specific needs at a better price. It's also worth evaluating if you need to make changes to your policy. As your business grows and changes, your insurance needs do the same.
Comprehensive Commercial Trucking Insurance
Get the appropriate coverage you need from a trusted insurance provider.