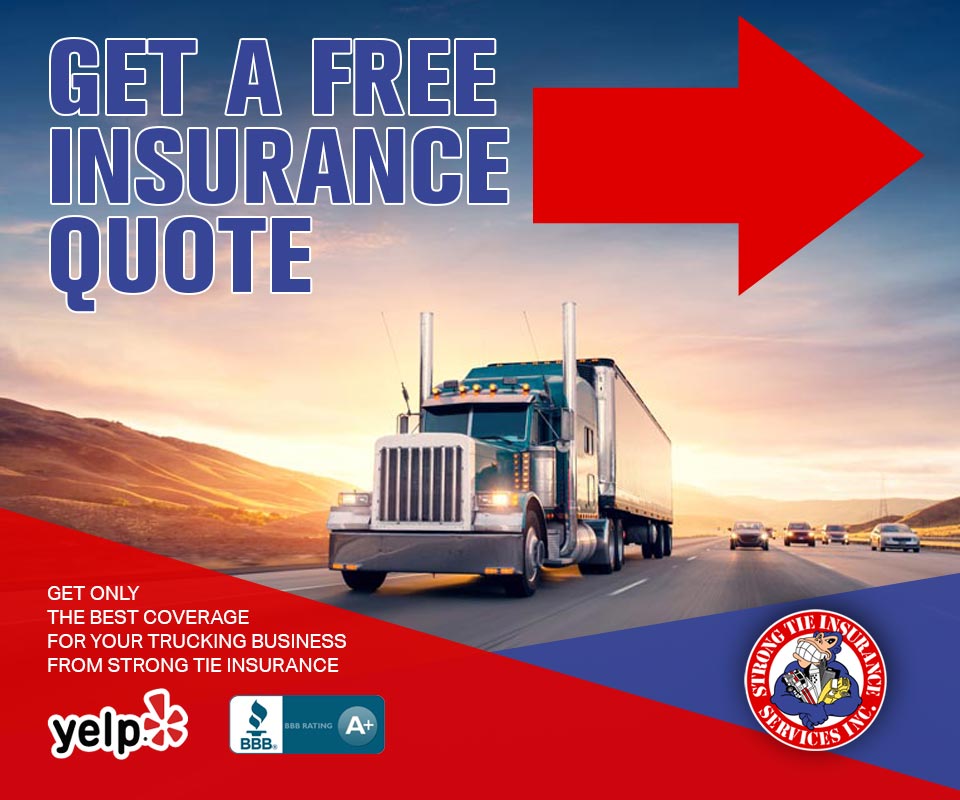 Strong Tie Insurance provides reliable truck insurance coverage to a wide range of businesses in California and throughout the United States.
As one of California's leading small insurance providers, we understand the risks you face on a regular basis as a trucking operator. Our commercial truck insurance policies are designed to help you stay protected and run your business effectively without surprise costs or excessive fees.
Trucking insurance is one of our most widely purchased insurance options. Like auto insurance, commercial auto liability insurance is mandatory in all states, making it essential that all of your business vehicles are adequately covered.
Without an insurance, you could risk fines and other penalties for your fleet, limiting your ability to run your business and creating major financial risks in the event that one of your vehicles is involved in an accident.
Do you need Semi Truck Insurance in California?
Like many other states, California law requires that your commercial vehicles are adequately insured in order to use public roads.
If you own or operate trucks as part of your business, it's essential that they are fully insured with both the driver, occupants and other motorists covered for costs such as medical care, property damage and more.
Operating a truck or other commercial vehicle without adequate insurance can leave you at significant risk of facing fines. It's also possible that the vehicles your business depends on could be impounded, preventing you from being able to properly operate your business.
Beyond the legal importance of insurance, there's the business importance of staying insured. If one of your vehicles is involved in an accident without adequate insurance, your business could face significant medical care, property damage and legal costs.
Our Truck Insurance Policies
We offer a wide range of  insurance policies and options aimed at trucks of all sizes and types. Whether your business depends on small delivery vehicles or large trucks designed for large scale logistics, our experienced team can help you purchase the insurance you need.
We cover all types of commercial trucks. These include local, intermediate and "long haul" truckers, dump trucks, tow trucks and auto haulers, and specialized haulers designed for hazardous materials, dry freight, containers, lumber and more.
Motor Truck Cargo Insurance
The freight your trucking company transports is hugely valuable, and even a slight accident can be all it takes to cause significant losses, delays and inconveniences for your clients. Our motor truck cargo insurance protects your freight and covers your liability for lost or damaged cargo.
Motor truck cargo insurance covers your liability in the event that your cargo is damaged or left on a roadway due to an accident. It also covers costs such as legal expenses that result from a client taking action and other miscellaneous cargo-related costs.
Physical Damage Coverage
Even the smallest collisions can result in serious damage to your trucks and other commercial vehicles, often leading to significant repair and replacement costs. Physical damage coverage ensures you're covered for the cost of repairing or replacing your vehicle after an accident.
As part of a physical damage coverage policy, you'll be protected in the event that your commercial vehicle is damaged in a collision with another road user, a collision with another object or a non-collision accident in which the vehicle is damaged.
General Liability Coverage
From slips and falls to accidents while unloading a truck's contents, general liability coverage is an important part of protecting your business against the cost of accidents that can occur while you run your business.
For businesses that operate trucks and commercial vehicles, general liability insurance provides coverage for medical payments, property damage, bodily injury, personal injury and other highly common types of liability.
Excess Liability Coverage
Accidents, including serious accidents, can occur at any time, particularly if your business uses trucks and other commercial vehicles to transport freight, deliver items and provide service to its customers.
Excess liability coverage protects your business in the event of a catastrophic accident, offering coverage for amounts beyond the typical limits of a standard truck insurance policy and helping your business move forward after a major accident and potentially costly settlement.
Workers Compensation for Truckers
Workers compensation insurance is vitally important for businesses of any type, and particularly essential for businesses with a significant amount of employee risk. From collisions to slips and falls in a warehouse environment, injuries and accidents can occur at any time, in any setting.
Trucking workers compensation insurance gives your company coverage for drivers and other staff, covering your liability for medical costs and lost wages incurred by employees injured on the job.
High quality commercial trucking insurance and excellent value
At Strong Tie Insurance, we operate nine locations throughout Southern California and a single location in Miami, Florida. As one of the country's leading small insurance providers, our goal is to keep your entire company safe and protected both on the road and in the workplace.
Thanks to our excellent working relationships with industry leading contractors, auto and truck dealers, body shops, technicians and other service providers, we can provide fast and highly effective service the moment you need it.
Our Service Area and Locations
From our locations in California and Florida, we offer truck and other insurance options in six different states. Currently, our insurance services are available in the following states in the Pacific Northwest, Southwest and South Central USA:
California
Washington
Oregon
Texas
Nevada
Arizona
California
We currently operate nine locations throughout Southern California, the majority of which are in the Greater Los Angeles area. Full contact information for our Southern California locations can be found on our contact page.
Downey, California
Bell, California
Montebello, California
Huntington Park, California
Gardena, California
Los Angeles, California (Washington Blvd.)
Van Nuys, California
Fontana, California
Riverside, California
Florida
Currently, we operate one location in Miami, Florida. Further address and contact information for our Miami location can be found on our contact page.
Contact Us Now
Whether you use trucks for local deliveries or regional logistics, it's essential that your trucking fleet is properly insured. Truck insurance covers you for everything from physical damage from collisions and accidents to cargo damage, personal injuries and more.
Are you looking for cheap commercial truck insurance? To get started, call our team now on (844) 961-6161 to request a free quote for your trucking insurance policy and learn more about the options available to you.